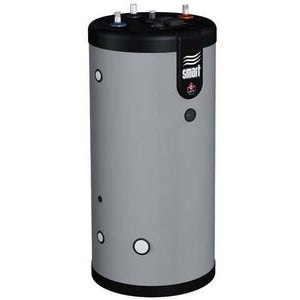 Triangle Tube Smart 30 Indirect Water Heater
$1,051.56

$1,051.56

Save $246
---
---
Most Items Ship Same Day (Warranty, Return and Refunds)
---
The SMART 30 Indirect Fired Water Heater heats more hot water with less fuel for the energy conscious consumer. This is a stainless steel indirect fired water heater. Efficient and Dependable, it is heated by the hot water from your boiler. As your home is being heated, your domestic hot water is being heated at the same time, thereby, consuming less fuel and conserving energy. This has Exclusive "Tank-in-Tank" Design and it is a Self-cleaning/ self-descaling heat exchanger. 
Smart 30 is 3 Times faster than conventional gas or electric water heaters and has a Lowest pressure drop in the industry.  The average life span of a SMART Series Indirect Fired Water Heater exceeds 20 years which is two or three times the average life of a conventional gas, oil or electric water heater.
Performance Specifications: 
Boiler Output Btu/Hr : 87,000
1st Hour Recovery (gal) : 140
Continuous Flow (gal) : 115
Peak/Flow (gal/10 min.) : 40
Connections/Dimensions/Data
Boiler Supply/Return : 1"
Domestic Inlet/Outlet : 3/4"
Domestic Capacity (gal) : 28
Heating Water Capacity (gal) : 5
Diameter : 22"
Height : 38"
Heat Surface (Sq.ft) : 13 
Empty Weight (lbs) : 115
Read more...
---
---
Disclaimer: Must be installed by a licensed contractor or warranty is void.
---
Questions?
Speak with an expert
1-888-615-0755
---
We Also Recommend
---