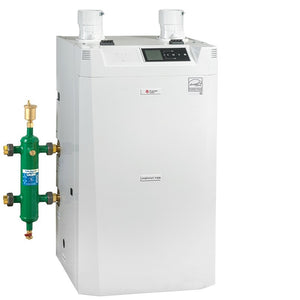 Triangle Tube INSFS110S Instinct Solo Boiler Floor Mount
Most Items Ship Same Day (Warranty, Return and Refunds)
---
Triangle tube's INSFS110S Instinct Solo Boiler Floor Mount (High-efficiency condensing boiler) is an all stainless steel fire tube heat exchanger. It can be cascaded up to six boilers and paired with Smart indirect tanks to provide an abundance of hot water. Instinct INSFS110S is a high-efficiency condensing boiler that is engineered with reliability in mind and allows for a quick: 60 second setup provided by CTRLMAX Control System-EZ Setup. This helps you to get the instinct boiler up and running fast. It has a 3-in-1 Universal vent adapter. It directly accepts PVC, Polypropylene, and Stainless Steel.
Performance Specifications of INSFS110S Instinct Solo Floor Mount:
Fuel: Natural / Propane
Turndown Ratio: 8:1
Input Modulation MBH: 13.75 – 110
AFUE Rating: 95% 
DOE Heating Capacity MBH: 102
Net AHRI Rating MBH: 89
Water Volume Gal.: 2
Input Capacity: 110,000 BTU/hr
Connections/ Dimension INSFS110S Instinct Solo Floor Mount: 
Supply / Return Connections: 1"
Gas Connection: 3/4" 
Vent & Air Connections: 3"
Dimensions: 22" x  41"  x  22" 
Weight (Empty): 145 Lbs
Electrical Requirements: 120VAC 60Hz 15A Full Load
Documents and guides: 
Read more...
---
---
Disclaimer: Must be installed by a licensed contractor or warranty is void.
---
Questions?
Speak with an expert
1-888-615-0755
---
We Also Recommend
---