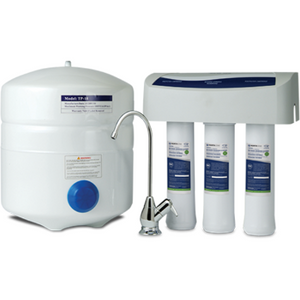 NSRO42C4 Reverse Osmosis Drinking Water Filtration System- North Star
$449.99

$449.99

Save $150
---
---
Most Items Ship Same Day (Warranty, Return and Refunds)
---
NSRO42C4 is a Reverse Osmosis (RO) filtration system for drinking water. It is installed under the sink and offers the convenience of on-demand water right under your tap. Reverse osmosis (RO) systems significantly reduce potentially harmful contaminants in the water you drink. It uses household water pressure to reverse a natural physical process called osmosis. Water, under pressure, is forced through a semi-permeable membrane where minerals and impurities are filtered out. Clean drinking water goes to the faucet or storage, while minerals and impurities are sent to the drain with RO waste water. 

Features: 
This system reduces Contaminants such as lead, cysts (Giardia, Cryptosporidium), sediment, rust, sodium, chromium, and chlorine taste and odor
Chrome faucet included with Water Quality Monitor that automatically indicates when to change filters and membrane
Easy to install with slim line design easily fits under the sink
Large tank capacity
Installation kit includes all components needed for typical install
6-month filter life
Quick change auto shutoff cartridges
Read more...
---
---
Disclaimer: Must be installed by a licensed contractor or warranty is void.
---
Questions?
Speak with an expert
1-888-615-0755
---
We Also Recommend
---