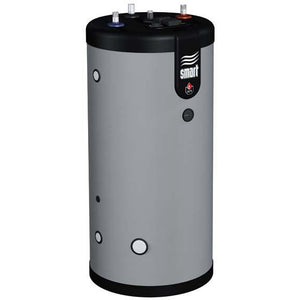 Triangle Tube Smart 120 Indirect Water Heater
$3,042.56

$3,042.56

Save $639
---
---
Most Items Ship Same Day (Warranty, Return and Refunds)
---
SMART 120 - The Smart Choice in Indirect Water Heaters. This is a 120-gallon indirect water heater by Triangle Tube.  
The SMART 120 Indirect Fired Water Heater is a stainless steel indirect fired water heater. It heats more hot water with less fuel. The average lifespan of a SMART Series Indirect-Fired Water Heater exceeds 20 years! Smart 120 is Efficient and Dependable, it is heated by the hot water from your boiler. It consumes less fuel and thus conserves the energy. 
This has Exclusive "Tank-in-Tank" Design and it is a Self-cleaning/ self-descaling heat exchanger. 
Performance Specifications: 
Boiler Output Btu/Hr : 420,000
1st Hour Recovery (gal) : 650
Continuous Flow (gal) : 560
Peak/Flow (gal/10 min.) : 190
Connections/Dimensions/Data
Boiler Supply/Return : 2"
Domestic Inlet/Outlet : 1 - 1/2"
Domestic Capacity (gal) : 119
Heating Water Capacity (gal) : 43
Diameter : 34"
Height : 72"
Heat Surface (Sq.ft) : 42
Empty Weight (lbs) : 479
Installation and Maintenance Manual
Read more...
---
---
Disclaimer: Must be installed by a licensed contractor or warranty is void.
---
Questions?
Speak with an expert
1-888-615-0755
---
We Also Recommend
---