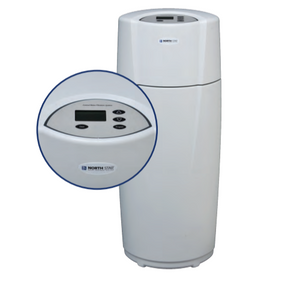 North Star Central Water Filtration System NSWHCW
Most Items Ship Same Day (Warranty, Return and Refunds)
---
Benefits:

A proven system for removing chlorine, taste and odor
Delivers clean, filtered premium water to every faucet in your home, including your shower!
Reduces unpleasant chlorine taste and odor, leaving great-tasting water
Eco-friendly

No salt is used
Low energy usage, 28V power supply
Reduces environmental impact of plastic water bottles

Designed for high performance and maximum efficiency

Sediment, chlorine taste and other adverse contaminants that affect taste and odor are reduced
Automatically cleans itself, no filter cartridges to change or replace, saving you time and money
High flow rate of 9.6 gpm
High-tech LED display with push button controls
Space-saver, less than 1 sq. ft. footprint

Contaminant Reduction
FEATURES
• Provides filtered water throughout your entire home, without filters to replace
• Reduces chlorine and sediment from the water supply, perfect for municipal water
• System automatically flushes, cleans and drains its internal filter every 14 days
• High-flow valve maintains water pressure throughout the home, including your shower and appliances
• Connects with up to 1-inch plumbing
• Includes: installation kit with custom fit bypass valve, installation guide
Specifications:
Part Number
: 7358179
Flow Rate: 6 gpm
Water Pressure Limits:
Water Temperature Limits:
Drain Flow Rate:
Estimated Total Capacity:
NSF Certification: 42
Warranty: 1 Year Parts | 3 Years Electronic Control Board | 10 Years Media Tank
Documents and guides: 
Read more...
---
---
Disclaimer: Must be installed by a licensed contractor or warranty is void.
---
Questions?
Speak with an expert
1-888-615-0755
---
We Also Recommend
---