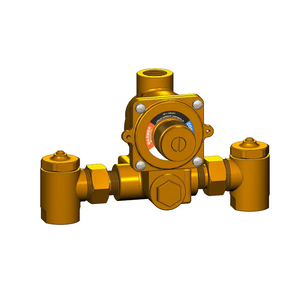 Lawler 72956-00 6710 Thermostatic & Pressure Balanced
$1,002.24

$1,002.24

Save $437
---
---
Most Items Ship Same Day (Warranty, Return and Refunds)
---
Lawler's 72956-00 Model 67® is a single solution for specifiers who want Lawler's exclusive Three-Way Protection™ in a small capacity master controller featuring separate Thermostatic and Pressure Balance chambers. This rare combination of performance specs makes the Model 67® a "true" Type T/P valve, regulating temperatures within 1.5 GPM. The 67® helps engineers "right-size" the valve for low-to-mid range applications (½-25 GPM) without sacrificing performance. With Three-Way Protection™, the small master controller Model 67® delivers protection against runaway temperatures, thermal shock, or scalding should the thermostat, hot or cold water supply fail. That means Model 67®, like every Lawler master controller, not only meets, but exceeds the ASSE 1017 standard.
Specifications:
Series
: 67
Model: 6710
Configuration: Standard
Application
: Master Controller
Connection Type
: NPT
Inlet Connection Size
: 1/2"
Outlet Connection Size
: 1/2"
Min Flow
: 1/2 GPM
Min Flow with Recirculation
: 1/4 GPM"  
Rated Flow at 10 PSI
: 3-1/2 GPM"  
Rated Flow at 45 PSI: 10 GPM"  
Temperature Range
: 100°F – 150°F, 50°F – 100°F, 85°F – 135°F
Weight
: 9 lbs
Part Number
: 72956-00 Rough Bronze, 72956-01 Rough Chrome
Documents and guides: 
Read more...
---
---
Disclaimer: Must be installed by a licensed contractor or warranty is void.
---
Questions?
Speak with an expert
1-888-615-0755
---
We Also Recommend
---