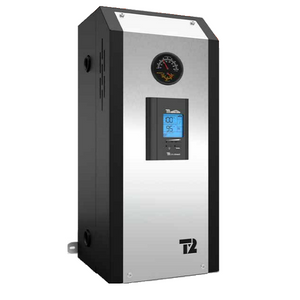 ARCTIC-T2-MINI-ULTRA 3kW - 12kW
$1,347.00

$1,347.00

Save $184
---
---
Most Items Ship Same Day (Warranty, Return and Refunds)
---
Our mini electric boilers are ideal for heating single- family homes and condominiums. These compact heaters can effortlessly fit into very small spaces. What's more: the boilers come in a variety of configurations, making them easy to install.
100% Compact

Our mini electric boilers are renowned for their compact design. Thanks to their reduced
sizes, these heating systems fit into even the smallest of spaces. In addition, the piping can be connected in multiple ways, ensuring an effortless installation.
100% Efficient

Our boilers waste no energy. Producing no combustion or GHG emissions, the mini electric boiler is a highly energy-efficient and green alternative. Maintenance is simple and kept to a minimum. The addition of the UltraSmart TM controller also helps to increase overall system performance.
100% Comfort

Silent and discreet, mini electric boilers are ideal for single-family homes and condominiums. Whether you need a hydronic system to heat your basement, garage or any other type of application, the compact mini is the intelligent choice for heating.
Features & Specs

The UltraSmart TM controller enables users to view the boiler's operation status at a glance
Preset configurations based on heating distribution
system Outdoor sensor that modulates boiler water temperature
Heating stops when outside temperature gets warmer
"Boost" mode that automatically increases the temperature when needed
Ability to purge the pump when system is not running
Safety control to limit excessively high temperatures
120V pump power supply
24V electrical supply for thermostat and other accessories
30 PSI safety relief valve
Drain/purge valve
208/240 VAC electrical supply
Length: 8 3/4" Width: 8 7/8" Height: 21 1/2"
Weight: 47 lbs
Volume: 1 US Gallon
Maximum Operating Pressure: 30 PSI
4 Inlet and Outlet Connections 3/4" NPT FEM
MINI ELECTRIC BOILERS ARE IDEAL FOR HEATED FLOORS, RADIATORS AND HOT WATER BASEBOARDS. OUR BOILERS CAN ALSO BE THE PERFECT SOLUTION TO COMPLEMENT YOUR EXISTING GEOTHERMAL, HEAT PUMP, BIOMASS OR SOLAR ENERGY HEATING SYSTEM.
Warranty:
15 Year warranty on reservoir
2 Year warranty on Electrical and Mechanical Parts 
Read more...
---
---
Disclaimer: Must be installed by a licensed contractor or warranty is void.
---
Questions?
Speak with an expert
1-888-615-0755
---
We Also Recommend
---