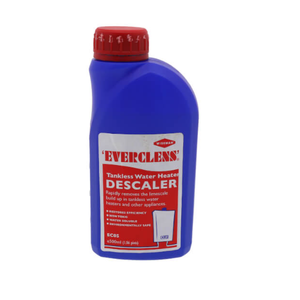 Everclens Tankless Water Descaler (500ml)
Most Items Ship Same Day (Warranty, Return and Refunds)
---
Free Shipping On Orders Over $35
Features:

Rapidly descales tankless heaters, restoring full efficiency in less than 15 minutes.
Part of the Central Heating Additive Range for heating systems and radiators
Tankless water heater descaler
Rapidly removes limescale build-up from water heaters and other appliances
Restores efficiency
Environmentally safe
Standards
Easy-apply 500ml bottle
No VOC's
Non toxic
Documents and guides: 
Read more...
---
---
Disclaimer: Must be installed by a licensed contractor or warranty is void.
---
Questions?
Speak with an expert
1-888-615-0755
---
We Also Recommend
---