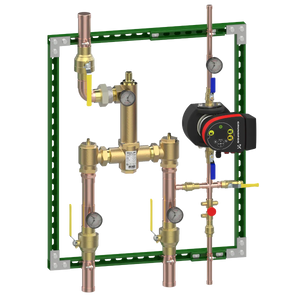 Lawler 805 Mini Mixing System Standard
$10,791.00

$10,791.00

Save $2,834
---
---
Most Items Ship Same Day (Warranty, Return and Refunds)
---
Lawler's NEW MINI Manifold Pre-Piped Recirculation Systems offer engineers a pre-piped solution with a small footprint – just a few inches larger than a standard valve in a cabinet. Lawler's patented 800 Series High-Low Master Controllers increase the performance and cost effectiveness of this mini pre-piped system by controlling both high and low flows while providing Three-Way Protection™.
Lawler's Mini Recirculation System is a turnkey unit that includes Lawler's patented single valve high-low technology as well as integrated smart pump technology that helps improve balancing of the recirculation loop. The system also includes thermometers, ball valves, mounting strut and a test connection.
This complete solution is a part of Lawler's Power of One™ pre-piped, pre-packaged, pre-tested systems, intended to give you one point of design and one point of accountability.
Lawler's NEW MINI Manifold Pre-Piped Recirculation Systems are offered in both low capacity and high capacity configurations.
Specifications:
Series
: 800
Valve
: 805
Configuration: Mini Mixing System Standard
Application
: Master Controller, Mixing System
Certification/s:

 

ASSE 1017, CSA B125.3, Lead Free
Connection Type
: Sweat
Inlet Connection Size
: 2"
Outlet Connection Size
: 2"
Min Flow
: 5 GPM
Min Flow with Recirculation
: 1/2 GPM"  
Rated Flow at 10 PSI
: 96 GPM"  
Rated Flow at 45 PSI: 200 GPM"  
Temperature Range
: 110°F – 140°F, 70°F – 100°F, 90°F – 120°F
Part Number
: 90050-00
Read more...
---
---
Disclaimer: Must be installed by a licensed contractor or warranty is void.
---
Questions?
Speak with an expert
1-888-615-0755
---
We Also Recommend
---